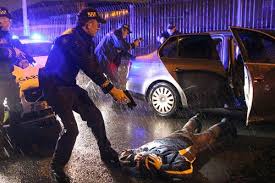 Why is the African-American male so feared? Why is he so feared that on many occasions when encountered by a white police officer with a badge and a gun, some officers are so threatened that they shoot and kill without probable cause? I am so tired of seeing black men murdered by white police officers without any repercussions to the police officers. I think there are many African-Americans, Caucasian, Hispanics and Asians who are sick and tired of it as well.
It's not just the shootings in the past three to four years but the shooting, lynching, beating, and murder of African-American people for the past 300 to 400 years. Nothing has really changed. Except now we have video cameras to document and show the world what has been going on in black culture in America for hundreds of years.
Why has this persisted and what can we do about it? I believe the Bible may be able to shed some light on this situation. Exodus 1 tells the story of the Egyptians who were in power but they saw a smaller group becoming powerful in number and in favor with God. Exodus 1:7 says, "But the children of Israel were fruitful and increased abundantly, multiplied and grew exceedingly mighty and the land was filled with them."
After 400 + years of oppression, the African-American population has not grown weaker but stronger. In fact, we can see this by looking at the oval office with President Obama. However, many Americans are starting to be afraid and "want to make America great again." Despite the many attempts during these past years in every sector of society the African-American people are still growing mighty and advancing in every area of society.
This fear that existed with the Egyptian king exists in many Americans today.   The new Egyptian king said to his people, "Look the people of the children of Israel are more and mightier than we; let us deal shrewdly with them, lest they multiply and it happen in the event of war that they also join our enemies and fight against us." (Exodus 1:10) The response to this fear was interesting and very much like what we are seeing in America today. Their response was to "set taskmasters over them to afflict them with their burdens." (Exodus 1:11)
African-Americans have taskmasters that are afflicting them with a greater burden. The people in the blue uniforms that are supposed to be their protectors are instead their murderers. Once again, I must say this does not mean that all police officers are murders. (Check out Nakia Jones, African-American female police officers response.)  But so far in 2016, 123 African-Americans have been shot by police based on The Washington Post.  The lastest among those being shot and killed were Philando Castile in Minnesota and Alton Sterling in Louisiana.
So what should we do? What can we do? I often get frustrated because I don't know the answer to that question. I do know that I get tired of seeing protests and no change in racists police behavior. I get tired of seeing people argue over whether it's #BlackLivesMatter or #AllLivesMatter. I get tired of having to reiterate to my two sons what to do if they are stopped by police officers. I am tired of watching video after video of African-Americans murdered by police officers and walking away with no consequences to their actions. I am tired of seeing people like Dylann Roof  shoot and kill 9 black people in church  get treated with more respect than a 12-year-old African-American boy (Tamir Rice) playing in a park.
So I prayed and I asked the Lord what could I do? I think the answer may be found in Exodus 2:23-24. "Then the children of Israel groaned because of the bondage and they cried out; and their cry came up to God because of the bondage. So God heard their groaning and God remembered His covenant." I cried out to the Lord just like the children of Israel and here is what I believe may be His response.
In Exodus 3:7, the Lord responds by saying, "I have surely seen the oppression of My people…and have heard their cry because of their taskmasters, for I know their sorrows." I believe that God hears the cry of those who are upset over these police shootings. Second Chronicles 7:14 says, "If my people who are called by my name will humble themselves and pray and seek my face and turn from their wicked ways then will I hear from heaven and will forgive their sin and heal their land." God continues in this passage to say, "My eyes will be open and My ears attentive to the prayer made in this place."
What do we do? We pray. I know that's cliché but it's what we are to pray that is so important. We need to repent on behalf of America and those who have brutally murdered so many African-Americans and others unjustly. This land has been full of injustice not only to African-Americans but also to the Native Americans, Mexicans, and Vietnamese just to name a few. But we must repent on behalf of these racists in our history. I know you may be saying, I did nothing wrong. God is looking for intercessors who will stand in the gap and repent on behalf of this nation and cry out to him for help.
Ezekiel 22:30 – 21 says, "So I sought for a man among them who would make a wall, and stand in the gap before Me on behalf of the land, that I should not destroy it; but I found no one. Therefore I have poured out My indignation on them; I have consumed them with the fire of My wrath; and I have recompensed their deeds on their own heads," says the Lord God."
Next, we need to do the unthinkable! We need to Adopt-A-Cop and pray for them. (Click here at Adopt-A-Cop and go online to get the name of a cop in your area and sign up to pray for them.) I know that seems absolutely ridiculous but please keep reading. The worse thing we can do is be mad, outraged, make a few comments on social media and then in a few days walk away like nothing happened.
We should pray that our cops have hearts that chase after God and that they use wisdom in their jobs each day in dealing with people. We need to pray for their protection and safety because as I said earlier not all police officers are racist murders. We need to pray that other cops will stand up in their departments to fight the racial disparities and injustices as the cops in St. Louis are trying to do. We need to cry out to God for justice on behalf of all of the lives that have been claimed unfairly.
Also, we need to pray for God to give us wisdom to know how to respond in our world and in our communities. God may be calling us to take a stand or do something extraordinary that can help reduce or eliminate these types of murder. He is creative and has these types of solutions when we don't. Let's seek God for answers as to how to respond.
I know that praying for a police officer seems radically opposed to our initial reactions of being angry at the police but this is exactly the way followers of Christ are supposed to respond. Matthew 5:44 says, "Love your enemies, bless those who curse you, do good to those who hate you and pray for those who spitefully use and persecute you." After all, Jesus was brutally murdered for a crime he didn't commit either. I think He knows a little about this subject.