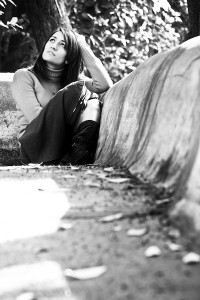 What's wrong with me?  That's often a question that single Christian women ask when it comes to dating or finding a mate.  After being a single widow for over five years, I started to ask myself the same question.  Friends say you are so pretty and smart.  Don't worry God will send someone at just the right time.  Somehow those words just don't seem to be so comforting when you are feeling lonely.
I've heard other women say, "There are just no good men out there."  I beg to differ.  I've met a lot of extraordinary Christian men who would make someone a wonderful husband and be amazing fathers. They fit many checklists for several women handsome, educated, career focused and loving.  So, what is the problem?  Either they weren't interested in me or I wasn't interested in them.
To make matters worse, I began to see other single Christian women who were in relationships.  They were not necessarily the best choices.  However, the women were very content with having a man by their side.  They were either dating married men, unsaved men, or men without jobs. How could I knock that?  They seemed happy for the moment at least.
I began to pray one day. "Lord, what is going on?  I serve you faithfully.  I seek your word.  To the best of my abilities, I am trying to obey everything you tell me to do.  Why is it that I meet nice men but nothing happens. What's the problem?"
I began to think to say to myself, "Maybe I should just settle and take any man. Maybe he doesn't have to be 'so spiritual.' Maybe I need to lower my standards."  I began to think about compromising the standards I have for a mate. Continue reading →