Giving is a part of our worship. We believe giving cheerfully and sacrificially is an act of worship that blesses the giver as much as the receiver (2 Corinthians 9:6-7). Among many reasons the scriptures give us for why we should give, one that should move your heart most directly is because it makes us more like Christ. Giving is absolutely essential to following Christ.
When we give out of love for Christ, and with a generous heart, it causes many changes within us. Here are a few to think about:
It increases our intimacy and directs our attention and heart to Christ. (Matthew 6:21)
It increases our character, conforming us to Christ's image as an unselfish giver.
It helps us realize the true ownership of ALL of our possessions. (I 29:11-12)
It teaches us to trust and submit everything to God. (Deuteronomy 14:22-23)
It works as our greatest weapon against the idolatry of money and its illusion of power in our lives.
2013 Financial Report
Highlights
48 people completed Level 2-4 Discipleship Class.
Began hosting monthly youth activity nights.
Children & Youth increased in the department by 300%.
Over 90% of the children in elementary class have made decisions for Christ and have been baptized
Gave over $25,000 as a tithe to our partner organization.
Increased annual revenue by 65% from previous year.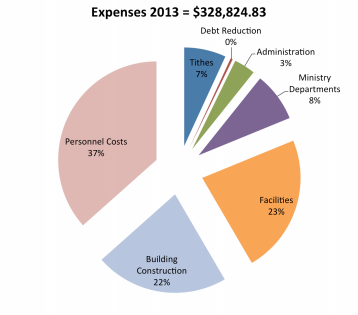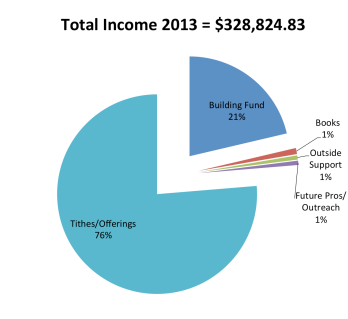 * Rohi Christian Church operates and manages its finances on a fiscal year (FY) that runs from September 1st to August 31.
WAYS TO GIVE
Remember, in order to receive the appropriate documentation you need for tax purposes your name and address must be clearly identifiable on your check.
Place your gifts in an offering basket during any worship service
Give Online via eCheck or credit card
Mail your contribution to the church office
Donate your assets (like stock) and Real Property
Give Online